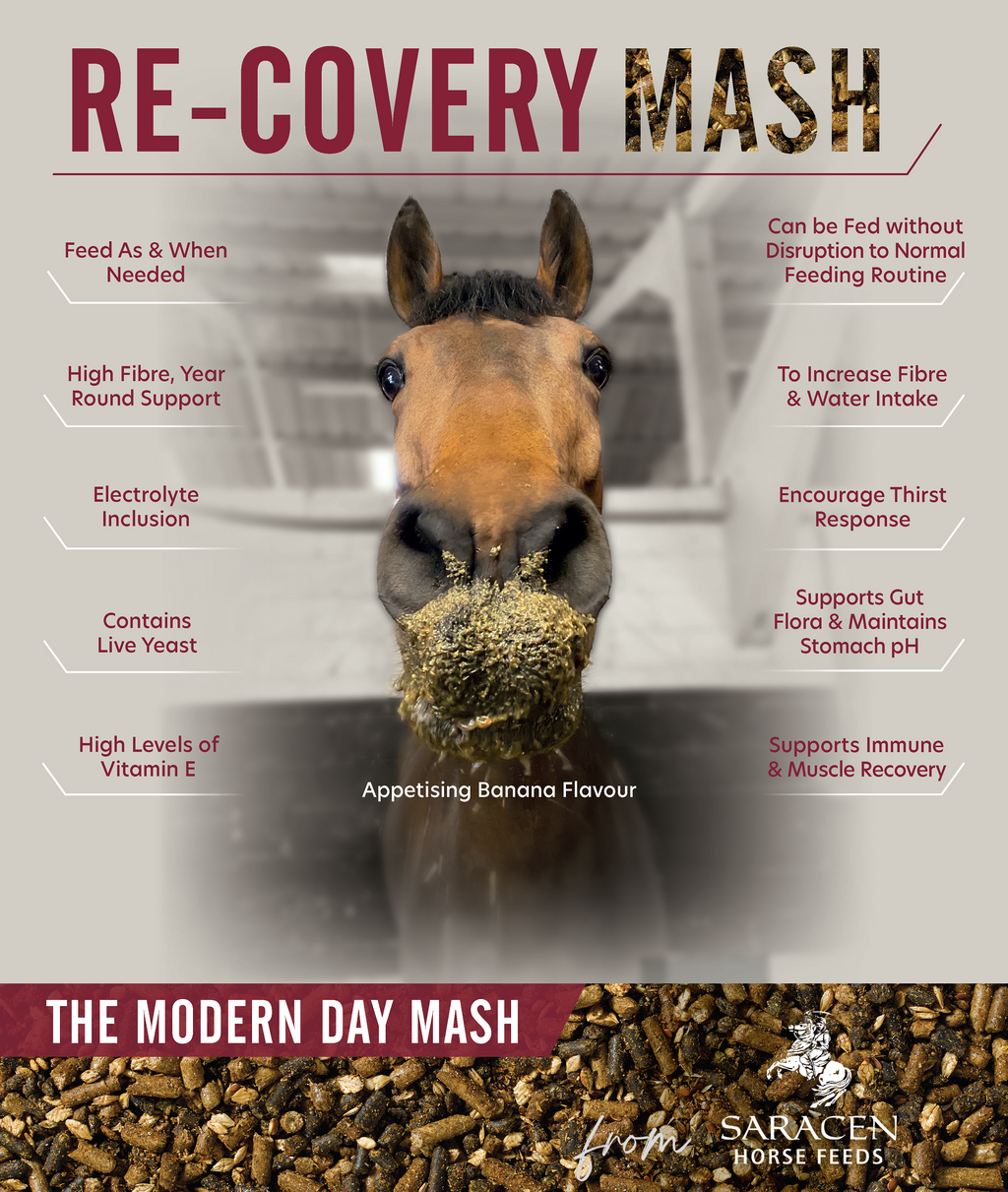 SARACEN HORSE FEEDS - RE-COVERY MASH is a necessity for your horse to help increase fibre and water intake post training, traveling and competing. 
The high fibre, banana flavoured mash is convenient to feed in all situations to help support and restore water intake in the fussiest of eaters and drinkers.   This banana flavoured mash is high in fibre and low in starch and sugar and may be fed as and when needed to make sure even the fussiest of eaters take additional water and fibre.
FIND OUT THE ANSWERS TO THE MOST COMMONLY ASKED QUESTIONS:
IS RECOVERY MASH HEATING?
No, RE-COVERY Mash is founded on a base of 'Super-Fibres' known for its superior digestibility and provision of non-heating calories, helping to support optimal fibre and water intake during the year.
MY HORSE IS PRONE TO GASTRIC ULCERS CAN I FEED THIS TO MY HORSE ?
RE-COVERY MASH contains 10% starch and 6% sugar and is suitable for horses that is prone to digestive upset when fed in small quantities. According to the guidelines - when managing a horse with digestive issues, you should not feed more than 2g of starch per 1kg of bodyweight. For example: 500kg horse =  starch content below 1kg per day. If 500g of RE-COVERY MASH is fed, this will provide 50g of starch, please however take into account the starch content of the horse's current feed as well.
HOW QUICKLY DOES RECOVERY MASH SOAK?
RE-COVERY mash can be soaked in cold water for 15 -20 minutes, or alternatively you can also soak in warmer water for 5-10 minutes.
CAN I FEED RE-COVERY MASH TO MY HORSE ON A DAILY BASIS?
Yes, the mash  can be fed alongside your horse's normal feeding regime and will not cause a nutritional imbalance - as it does not contain a full range of vitamins and minerals. It is rich in 'Super-Fibres', electrolytes and quality proteins so the mash can be fed as and when needed to support water and fibre intake.
FULL SPECIFICATION SHEET:
ARE YOU A REGISTERED BUSSINESS / VET?:
ARE YOU A CONSUMER?: