We're proud to announce that The Veterinary Group LLC (TVG) are ISO 9001:2015, ISO 14001:2105 and ISO 45001:2018 CERTIFIED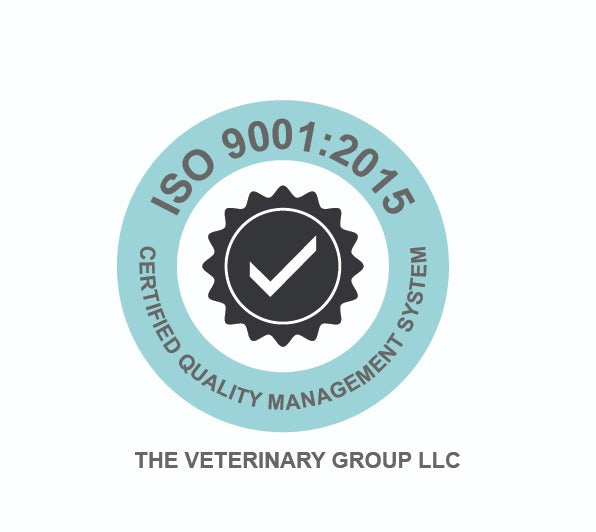 It's official! After all our hard work we've been awarded the prestigious ISO 9001:2015, ISO 14001:2015 and 45001:2018 accreditation. In order to achieve these globally recognised awards, we have evidenced our quality management systems, as well as the high level of quality customer service that we provide, while having a strong focus on sustainable development initiatives.
Our commitment to work towards ISO accreditation demonstrates our promise to providing high-quality, trusted services to our clients, and our ongoing responsibility to develop our ethical management systems.
In order to be ISO compliant, we underwent an extensive evaluation process that included an in-depth assessment of our quality management systems and an audit of our processes and compliance, which was successful with no non-conformances identified.
What is ISO certification and why is it important?
The ISO certificates is a seal of approval from the international Organization for Standardisation (ISO) body and it acknowledges that a company is being managed and operated  according to their published international standards.  
What is ISO 9001:2015 – CERTIFIED QUALITY MANAGEMENT SYSTEM?
ISO 9001:2015 certification provides our customers with assurance that they will receive consistent, quality products and services.
This accreditation helps improve the service for customers, as continual improvement ensures that our business becomes more efficient and maintains a high standard of service delivery – good news all round!
What is ISO 14001:2015 – CERTIFIED ENVIRONMENTAL MANAGEMENT SYSTEM?
ISO 14001:2015 is the International Standard for Environmental Management Systems (EMS), and was designed to help businesses reduce their environmental impact and this certification demonstrates our pledge to reduce waste, improve our resource efficiency, as well as cutting our waste management costs. 
What is ISO 45001:2018 – OCCUPATIONAL HEALTH AND SAFETY MANAGEMENT SYSTEM?
This certification testify of our company's commitment to our employees health and well-being. This certification's goal is to provide a healthy and safe working environment for our employees and showcase that we continuously strive for safety improvements.
Essentially, our ISO certifications demonstrate that we have robust, clearly defined procedures in place in all our business areas and processes. We can proudly state that TVG operates with both quality and transparency in everything we do (even though we did it before being awarded these prestigious accolades, as this is one of our core values).
In final, these ISO certificates is a testimony of trust, that demonstrates our commitment to you.
Team TVG